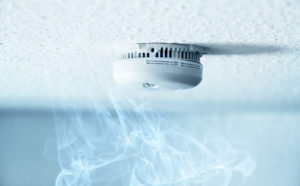 A structural fire can cause extensive damage and injury, but there are steps you can take to keep your home safe.
Keep small appliances, such and irons and hair dryers, unplugged when not in use.
Don't overload electric outlets.
Use the correct size light bulb for light sockets. Do not install bulbs that are too powerful.
Don't run electrical cords under rugs, furniture or boxes. Check cords regularly for signs of fraying or wear.
Keep your stove top and oven clean, and do not leave foods cooking while unattended. Keep potholders and towels away from the stove.
Test smoke detectors frequently and replace batteries when needed.
Store matches and lighters in a safe place out of the reach of children.
Make sure storage areas are clean and free of clutter, and never store flammable liquids, such as gasoline or kerosene, in your home.
If a fire occurs, get out of the building first, then call 911.